Danni Prendiville


Full Name

Sgt. Danni Prendiville

Nationality

British

Gender

Female

Status

Alive

Rank

Sergeant

Occupation

Former Intelligence Officer (Section 20)

Portrayed by

Sergeant Danni Pendiville was an Intelligence Officer for Section 20. She was known as one of the best in the command centre. Danni was responsible for collating information and supporting field agents and the commanding officer of the unit. John Porter and Danni had an affair after John re-entered the Intelligence Service.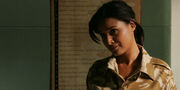 Ad blocker interference detected!
Wikia is a free-to-use site that makes money from advertising. We have a modified experience for viewers using ad blockers

Wikia is not accessible if you've made further modifications. Remove the custom ad blocker rule(s) and the page will load as expected.