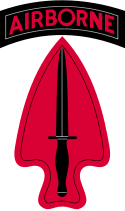 Delta Force
---
---
Headquarters
Fort Bragg, North Carolina, U.S.A
---
Type
Special Forces
Special Operations
Team Members
U.S. Army 1st Special Forces Operational Detachment-Delta (1st SFOD-D) is one of the United States' secretive Tier One counter-terrorism and Special Mission Units. Commonly known as Delta Force.
The United States government nor the military officially acknowledges the existence of Delta Force.
Known Members:Edit
Ad blocker interference detected!
Wikia is a free-to-use site that makes money from advertising. We have a modified experience for viewers using ad blockers

Wikia is not accessible if you've made further modifications. Remove the custom ad blocker rule(s) and the page will load as expected.