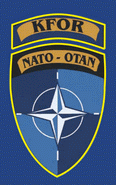 Kosovo Peacekeeping Force
Team Members
Kosovo Peacekeeping Force - KFOR is a NATO-led international peacekeeping force responsible for establishing a secure environment in Kosovo.
KFOR entered Kosovo on 12 June 1999, two days after the adoption of UN Security Council Resolution 1244. At the time, Kosovo was facing a grave humanitarian crisis, with military forces from the Federal Republic of Yugoslavia (FRY) and the Kosovo Liberation Army (KLA) in daily engagement. Serb forces had committed ethnic cleansing of Kosovo Albanians, and the death toll had reached a historic high. Nearly one million people had fled Kosovo as refugees.
KFOR has gradually transferred responsibilities to Kosovo police and other local authorities. As of December 26, 2013, KFOR consists of 4000 troops
In the events of Season 2, a US Army Patrol that are part of the Kosovo Peacekeeping Force are revealed to be dirty and are instead working for local criminal Hasani.