Latif


Full Name

Imran Sarbanri

Nationality

Pakistan

Gender

Male

Status

Deceased

Portrayed by
Imran Sarbanri better known as Latif is a terrorist group leader from Pakistan that was being hunted by Section 20 in Season 2.
Biography
Edit
Latif was former member of the ISI. He is the man that is responsible for the deaths of John Porter and Captain Kate Marshall as well as many more, he also succedded in killing Colonel Eleanor Grant outside Budapest, Hungary; but killed himself in the process.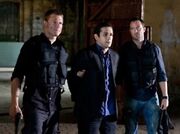 Ad blocker interference detected!
Wikia is a free-to-use site that makes money from advertising. We have a modified experience for viewers using ad blockers

Wikia is not accessible if you've made further modifications. Remove the custom ad blocker rule(s) and the page will load as expected.