Name
Strike Back Shadow Warfare
Country of origin
United Kingdom
United States
Original Run
9 August 2013 - 18 October 2013

Season 4 of Strike Back or Strike Back: Shadow Warfare, as it is known in the United Kingdom air in August 9 of 2013.
Scott and Stonebridge are recalled from holiday in California to capture Leo Kamali, a high-ranking member of a terrorist cell led by Al-Zuhari, an elusive terrorist.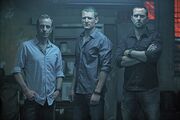 Main CharactersEdit
Recurring CharactersEdit
References
Edit
Ad blocker interference detected!
Wikia is a free-to-use site that makes money from advertising. We have a modified experience for viewers using ad blockers

Wikia is not accessible if you've made further modifications. Remove the custom ad blocker rule(s) and the page will load as expected.