Country of origin
United Kingdom & United States
Original Run
31 October 2017
Channels
Cinemax (USA)
Sky1 (UK)

Season 6 of Strike Back or Strike Back: Retribution was film in 2017.
Will centers around the Section program that is restored, in order to track down a notorious terrorist following a brutal prison break. Tasked with covert military intelligence and high-risk operations, the resurrected unit embarks on a lethal manhunt that will uncover a vast web of interconnected criminal activity. As the team journey across the Middle East and Europe, they uncover a
deadly conspiracy which threatens to overwhelm them all and change the face of modern warfare forever.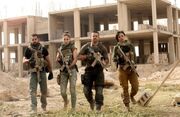 Main CharactersEdit
Recurring CharactersEdit
References
Edit
Ad blocker interference detected!
Wikia is a free-to-use site that makes money from advertising. We have a modified experience for viewers using ad blockers

Wikia is not accessible if you've made further modifications. Remove the custom ad blocker rule(s) and the page will load as expected.