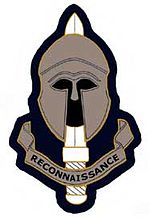 Special Reconnaissance Regiment
---
---
Headquarters
Hereford, England, UK
---
Type
Special Forces
Special Operations
Special Reconnaissance
Team Members
The Special Reconnaissance Regiment (SRR) is a United Kingdom Special Forces regiment that was established on 6th April 2005.
The Special Reconnaissance Regiment, or SRR provides specialist support for overseas operations, particularly those against international terrorism.
Recruits are picked out from all branches of the British Armed Forces; Army, Navy and Air Force. The SRR does accept females for selection as a large amount of their work is reconnaissance and there is no reason for regiment to be male-only.
The Special Reconnaissance Regiment is stationed at Hereford, the same barracks as the Special Air Service. The SRR, SAS and SBS all together form the UKSF.
The Ministry of Defence does not comment on their Special Forces regiments, therefore alot of information is from unconfirmed sources.
Ad blocker interference detected!
Wikia is a free-to-use site that makes money from advertising. We have a modified experience for viewers using ad blockers

Wikia is not accessible if you've made further modifications. Remove the custom ad blocker rule(s) and the page will load as expected.